"Be still and know that I am God" -psalm 46:10

For the last few months, this is the verse that keeps playing over and over again in my head. I knew that with everything going on in my life that I needed a day of "rest".

A few Tuesdays ago, I was in the middle of editing and I could feel God calling me outside. I took my dog out for a short walk, and the weather was incredible! I immediately felt the urge to go to a park and spend some time with the lord. Something inside told me to grab my camera (and my bible), because I might want to document this, and I might feel the urge to read. Now, I've never really done this before, but I've been trying to apply this to my life and what better time then now. So, I let God pick the place and truly guide my steps.

As I was in the car I started driving towards Boyd Hill Nature preserve, a park that for months I've been trying to visit. When I arrived I just started walking, and this path really caught my attention.



As I was walking I realized just how quiet it was out there, and again, that verse just echoed through my head. So, I said back, "guide my steps and show me what you want me to see". Now, I love nature, but I'm not particularly excited by it, and it was almost as if I was suddenly seeing the world through His eyes. I walked around for a while and was fascinated by these trees that looked so bare and stood so tall against the other shrubbery.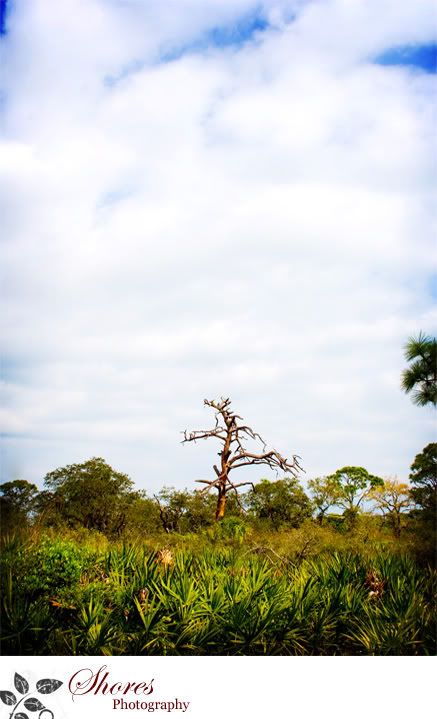 A few times I became a little frightened because there was no one else around and the women at the front desk warned me of wild animals and I think one was coyote, I can't remember, all I remember thinking was they were going to eat me, lol. So finally, I decided to head back home. I was getting a little hot carrying around my heavy bag and camera. Then, suddenly a cool breeze came out of nowhere and I cooled off instantly. As I turned another corner there was one of those cooler water fountains with the little paper cups, lol, I couldn't believe it. So I stopped had some water and realized that He was not ready for me to leave yet :). I then came across this butterfly, which I figured I would take a photo for my grandmother (she loves them). But I couldn't seem to catch it when it was sitting still.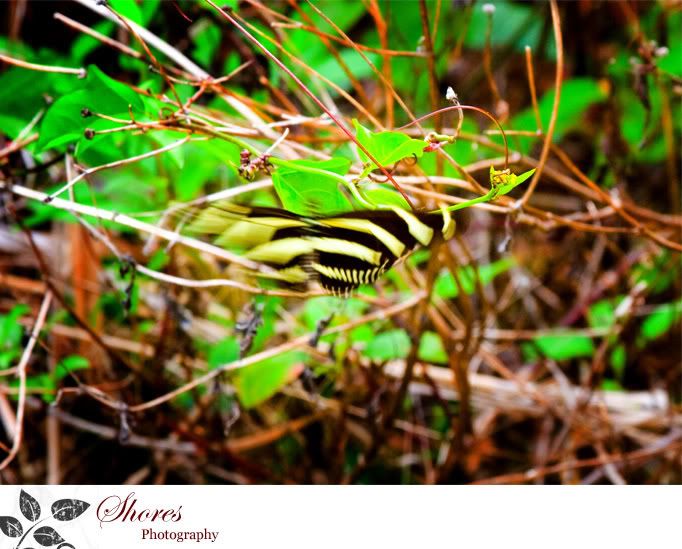 So I said a little prayer and asked God to have it stay still just long enough for me to get a shot of it. Then, it disappeared, I couldn't see it anywhere through my lens, so I looked up and there it was flying at me, and bounced off my head, hahaha, He definitely has a way of saying "Pay attention Kenzie!" lol. Then, it stopped on a branch, and I was able to capture more than just one shot...it was amazing...



This time I really was ready to head home, but then I ran into this sweet couple who told me about an alligator in the water nearby and and a really cool snake on the boardwalk. Now, honestly, I was not interested, I've seen plenty of alligators in my life, and I definitely did not care to see the snake (eeeeewwwww) even when I was editing the photos I was really really grossed out! Anyway, I realized that God stopped me for a reason and that I should probably go over there anyway, after all, I did agree when I left the house that I was going to pay attention to all signs and go where He wants.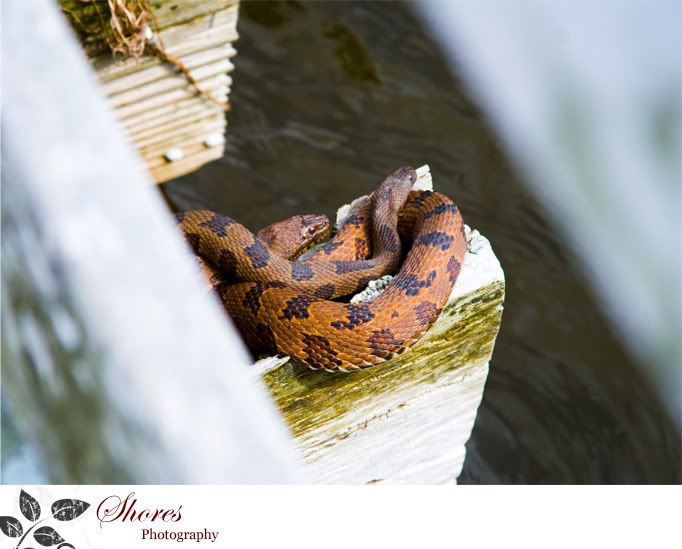 When I got to the board walk, I realized God had set up a Divine Appointment for me. It was awesome to be able to share Gods love, even if we didn't talk about any one particular thing. While we were in mid conversation, we noticed the alligator swimming towards us. He kept getting closer and closer and the closer he got, the more under water he went....



He was definitely headed for us!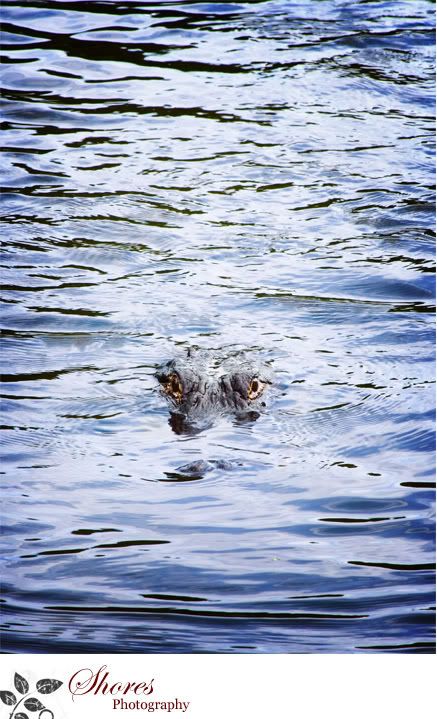 At this point we had a group of people standing around looking out to the water, but I knew he was going to pop up under me, so I had my camera ready. Well, my camera was ready, but I wasn't, because the second he popped up under my feet, I screamed and he went back under before I could get the picture.



A few minutes later we heard splashing and birds freaking out and sure enough he got his meal...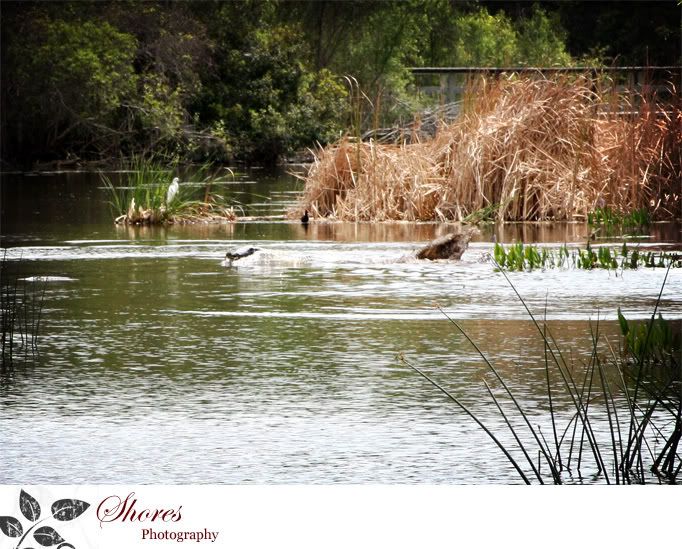 It was definitely a wild and interesting day for me...and as I was leaving for the last time, I ran into that sweet couple from the beginning of my trip and they asked me about the snake and if I saw the gator. Of course I showed them the pictures of the alligator eating the bird and the women at the front desk were so excited that they got all my information and want to use my photos for their brochure! How cool is that! So I left feeling as though I had accomplished so much and I had a wonderful day with God. Isn't it amazing what can happen when you let Him guide your steps.

Here was the last shot of the day...apparently they do weddings here too!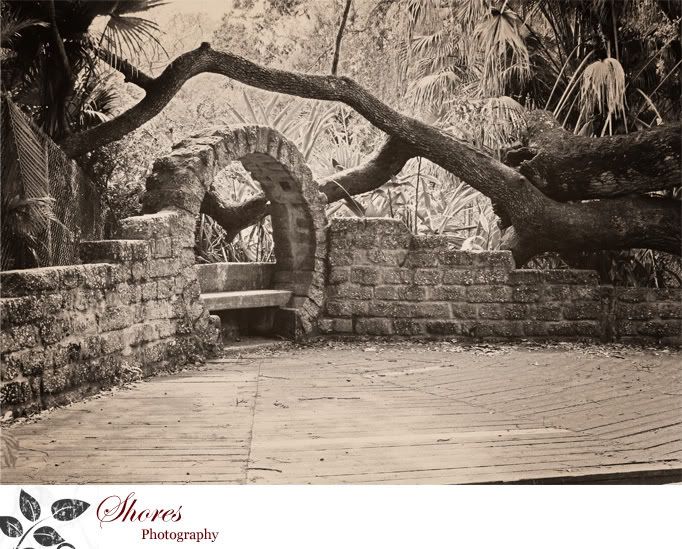 I encourage everyone to stop what you're doing, and just "take a walk with God". :)